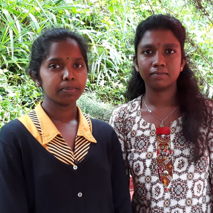 Created By:

Tim Pare

Collecting for:
Tip A Teapicker
In the run up to International Tea Day on December 15th, we are once again asking for your support to help the communities that put in all the extra hard work to make your lovely cuppa!

Many of us reach for a cuppa when we need to talk through problems or whilst processing bad news... the same is true on the other side of the world in the lean-to kitchens of those who pick the tea to make your brew, yet their issues are created rather than eased by tea.

The Sri Lankan communities that pick some of the best tea in the world struggle with significant social issues that result tea estates being a hotspot for suicide in a country already ranked 4th highest in the world!

Out of our now 1,000 alumni, statistics suggest that upward of 40 should have committed suicide. This is why our campaign this year is dedicated to providing emotional health and counselling support for our students. Around 16 out of 20 students in every class have been brought up with alcoholism and domestic violence as part and parcel of their childhood.

Tea Leaf Trust helps over 250 young people, 4,000 children and over 15,000 community members each and every year. We help them develop the skills to get jobs that pay well off the tea estates - 80% of our alumni are in work, further training or education within a year of graduating and those in work earn more than 50% than their counterparts who don't study with us... but that's the easy bit...

We also help to develop their self-belief, their coping strategies and enable them to lead the change in the communities where they live.

The work we do has meant that only two out of our 1,000 graduates have committed suicide, but that is two too many. Please help support out emotional health work to make sure that that, when they leave us, our students are resilient, robust and role models for the children of their tea estates... because, well, you know... children are the future.













JOANNA BUCKENHAM

donated

£50 + £12.50 Gift Aid

Deanna Laforet

donated

£80

This is instead of Christmas presents I would have bought; while not much hopefully it help (in a small way) readdress inequality and create positive change. Keep up the great work! Also, hooray for tea and the people who enable us to enjoy a cuppa!

Tim Pare:

Hey Deanna, thank you so much for this, amazingly generous donation... is it worth £160 to us, so more than a month's salary of one of our teachers... and they make every month count! Love following your adventures and hope to visit for a lovely cuppa very soon xx

Nic Rockett

donated

£10 + £2.50 Gift Aid

In lieu of cards this year.

Tim Pare:

Thank you very much indeed - this is worth £20 to Tea Leaf Trust! Have a wonderful Christmas and New Year

Stephen Pare

donated

£60 + £15 Gift Aid

Instead of Christmas cards - and the price of a couple of boxes of teabags!

Tim Pare:

That's a lot of Christmas Cards, thank you so much!

Anonymous User

donated

£100 + £25 Gift Aid

Keep up the good work and lets meet up over cup of tea soon. Lots of love Prince Harry and Meghan

Tim Pare:

Thank you so much Your Royal Highness... we appreciate your incredible generosity, particularly when you also have to fork out for the Royal Wedding and the refurb of Buckingham Palace... sending out love to Queenie x

Anonymous User

donated

£20 + £5 Gift Aid

Tim Pare:

Thank you very much indeed! x

Anonymous User

donated

£30

Tim Pare:

Thank you so much!

Stephen Pare

donated

£200 + £50 Gift Aid

Another instalment!

Tim Pare:

Thank you so much xx

Vicci Day

donated

£30 + £7.50 Gift Aid

We have seen first hand the benefit of your work

Tim Pare:

Thank you so much Vicci, I presume you visited the school at some point, sorry to miss you. Please come again, we would love to thank you personally

Sarah McGregor

donated

£10 + £2.50 Gift Aid

Tim Pare:

Sarah, thank you so much. This is really unexpected and generous of you. Have a lovely run-up to Christmas with your family xx

Anonymous User

donated

£30

Tim Pare:

Thank you very much indeed, whoever you are!

Jenny Kim

donated

£20 + £5 Gift Aid

Great work TLT! So proud of the students, staff and the accomplishments!

Tim Pare:

Thanks so much Jenny, you have helped us so much!

Lucy McKinney

donated

£10 + £2.50 Gift Aid

A great cause x

Tim Pare:

Thanks Lucy, you always support us. Love to the family xx

Sarah Ali - Racanière

donated

£30 + £7.50 Gift Aid

Tim Pare:

Hello Sarah,

Thanks very much indeed, that is so generous of you.

Love from Sri Lanka xx

Anonymous User

donated

£10 + £2.50 Gift Aid

Tim Pare:

Thanks very much indeed for your donation - we really appreciate it x

Molly Saint-James

donated

£20 + £5 Gift Aid

Thank you for sharing with us the great work you are doing!

Tim Pare:

Thank you Molly, that is really generous and a huge help to us x

Anonymous User

donated

£36 + £9 Gift Aid

Tim Pare:

Thank you so very much for supporting us - this is worth £81 towards our emotional health and counselling support!

Joshua Moritz

donated

£10 + £2.50 Gift Aid

Tim Pare:

Thank you Mr Moritz... you lovely man. xx

Suzanne Lynch-Mckay

donated

£25 + £6.25 Gift Aid

Tim Pare:

Thank you so much! That is worth £56.25 to us... you are amazing!

Juraj Citorik

donated

£200

Happy to support this great project!

Tim Pare:

Wow, just wow. Thank you so much... come and volunteer (or have a cup of tea) with us again soon!

Isaac Jones

donated

£20 + £5 Gift Aid

Tim Pare:

You are a gentleman and a scholar... thank you so much!

Maxi Panayi

donated

£20 + £5 Gift Aid

Amazing- let's bring down those suicide rates!

Tim Pare:

You are awesome young lady... please come out and see us xx

Kate Hale

donated

£20 + £5 Gift Aid

You guys are incredible it's only a small amount but I hope everything all together makes a big difference Kate xx

Tim Pare:

Thank you soooo much Kate... that is worth £45 to us! Hope all is well with you xx

Sonia Allen

donated

£20 + £5 Gift Aid

Keep on doing what you are doing Tea Leaf Trust and Tea Leaf Vision. Big Hugs Sonia & Graham xx

Tim Pare:

Aw, you guys!!! You do so much for us, thank you xxx