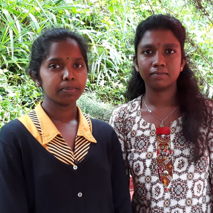 Help two students change their lives by attending the Asian University for Women
Donate
Created By:

Tim Pare

Collecting for:
Help two students change their lives by attending the Asian University for Women
Rishanthi and Vidhyashini are two charming, polite and ambitious young girls who both come from local tea estates in Central province, Sri Lanka. They have persisted in continuing their studies, despite numerous family issues and financial troubles making this extremely difficult. This year, both Rishanthi and Vidhyashini were selected as 2 of only 5 women chosen from Sri Lanka to attend Asian University for Women on a full scholarship! This will make them each the first members of their families to attend university and to earn bachelor's degrees.

Rishanthi and Vidhyashini have already done a great deal to ensure their education, including winning full tuition scholarships for $16,000US per year, and one round-trip ticket from Colombo to Bangladesh.

Despite their great efforts, there are still some additional expenses that they are not able to cover with their current income. Both of them come from tea estate families where the family income leaves them living on less than $1 a day.

The costs are listed below - please consider pitching in what you are able so that these two young women can follow their dreams and help uplift their communities. The idea of not seeing your family for five years is just crazy to me and so, alongside some educational expenses, we are raising money to bring them back to Sri Lanka from Bangladesh after two years.

Budget:
Laptop computers: $550 US x 2: $1100US

1 round-trip flight to Colombo, Sri Lanka from Chittagong, Bangladesh (to visit home after two years of studying): $600 US x2 = $1200US

Books, clothing, and other incidentals: $300US x2 = $600US

Emergency money: $50 US x 2: $100US

Total: $3000US

Thank you so much for your support of these two amazing women, as they work to change their lives and their community for the better!

Their full case studies can be read below:

Vidyashini Vijayakumar is a 19-year-old soft spoken lady with great determination in the eyes! Having heard from Tea Leaf Vision from her elder sister, she has just joined her first year and studying the Main diploma, and she speaks 3 languages. After Advanced Levels in Physical Sciences, she discovered a passion for Chemistry particularly. Attending school every day means a round journey over 3 hours, including a daily 1 hour of walking in all weathers.

Her father works in the tea estate, and her mother takes care of the younger siblings. Vijayakumar would be the first person ever in the family to gain a university education, which will provide immense future opportunities and support for the whole family. Her dream is a management role in a big company and she is determined to fulfil this.

Vidyashini's father works in the tea estate and earns about $60 per month. This salary is spent on their, food, travelling, medicine and brother's education. On top of this they need to pay the loan which they borrowed when there was no work in the tea estate during rainy seasons. Every month about $40 will be needed extra for their expenditure.


Thiyagarajah Rishanthi is a lovely girl, with a ready smile and a great love for IT. Rishanthi is currently one of the school's Master typists! Rishanthi's father works in Colombo and is only able to come home very two months. Vidhyashini found out about Tea Leaf Vision as a few of the other estate children had studied here.

Rishanthini's father works in Colombo as a labour in a construction company. His income is not stable. He earns about $75 - $100 per month. Her mother is an estate worker and earns about $25 per month. After her mother's operation her health condition was poor and she unable to work as before.


Anonymous User

donated

£60 + £15 Gift Aid

It's a pleasure to be able to help two such determined and lovely young women

Jenny and Frankie Ross

donated

£50

Anonymous User

donated

£200

Stephen Pare

donated

£200 + £50 Gift Aid

I have come into some more money so here it is, their need greater than mine!

Allison Anderson

donated

£15

All young women should get the chance for higher education if they wish! Happy to help out.

Anonymous User

donated

£20 + £5 Gift Aid

Frankie Walsh

donated

£30

We wish you both the best of luck! Great things are happening in TLV and beyond. Greetings to all in Sri Lanka from us in China. Mr. Frankie and Miss. Jenny (one time volunteers)

Anonymous User

donated

£30 + £7.50 Gift Aid

We wish them the very best x

Anonymous User

donated

£30 + £7.50 Gift Aid

Awesome effort so far girls. Maximise this opportunity and continue being change agents of the future!

Stephen Pare

donated

£80 + £20 Gift Aid

A privilege to be able to share in this wonderful time in the lives of these two young ladies.

Kate Mackenzie

donated

£10

Bill Parkinson

donated

£20 + £5 Gift Aid

Good luck to both of you on your amazing learning journey !

sarah Houlden

donated

£60 + £15 Gift Aid

This is awesome news, well done!

Tim Pare:

You are awesome news!!! Thanks Sarah x

Kyle and Blossom Patmor

donated

£60

Best of luck with your studies!

Tim Pare:

Thank you so much... love to you all xx

Anonymous User

donated

£80

Tim Pare:

Thank you so very much, whomever you may be x

Carol Workun

donated

£30

Very proud of both of you. An amazing achievement and I know you both make the very best of this chance

Tim Pare:

Thanks Carol, you're the best x

Tim Pare

donated

£40

We are so proud of you - the first in your families to attend University