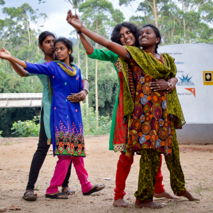 Help a mother fix her storm damaged kitchen and washroom before she gives birth
Donate
Created By:

Tim Pare

Collecting for:
Help a mother fix her storm damaged kitchen and washroom before she gives birth
In the last month there have been high winds and heavy rains in the tea plantations where we work. This has led to many houses being damaged.
Landt is a lovely lady from the tea estates who works for a social enterprise called AMMA that Tea Leaf Trust supports. She is heavily pregnant and due to give birth next week!!!
Her kitchen, already in poor condition, was badly damaged in the storms and she is now faced with the choice of fix the roof, or buy items for her new baby. Although her part-time work is helping her family out of poverty, the cost of living in Sri Lanka is very high and repairs such as this are just not possible on the family's income. We are trying to raise money to fix it for her as soon as possible.
Some of the funds will hopefully be raised by selling a beautiful quilt that she has embroidered (with all profits going to this end). This link is to donate, however, should you wish to view the quilt, please visit:
https://www.facebook.com/ammatextilesSL/
Tea Leaf Trust are proud to partner with the wonderful AMMA (www.ammasrilanka.com), a social enterprise who employ tea estate mothers to make naturally-dyed textile products using food waste.
Anonymous User

donated

£50

Anonymous User

donated

£60

Good Market Team

donated

£25

Sending much love to Amma Landt and her family

Anonymous User

donated

£30

Tim Pare

Tea Leaf Trust

Thank you so much to everyone who has supported this cause. We have now raised enough money to fix Landt's kitchen and washroom!!! This is amazing news.

From these couple of pictures you will see that even with the roof fixed, it is not in great shape. Therefore we have stretched our fundraising target to enable us to help with some additional renovations such as reinforcing the walls and applying a coat of paint.

Thank you again.

Pedro & Mariana

donated

£10

Phoebe Light

donated

£10 + £2.50 Gift Aid

Kanako Ito

donated

£30 + £7.50 Gift Aid

Saw an Facebook post by a close friend of mine, wanting to contribute to

Jenny Ross

donated

£20

Carol Workun

donated

£25

No one should have to make these decisions or live in these conditions. Lets try and get this hard working mothers roof fixed before her baby comes.

Anonymous User

donated

£15

Good work Amma. Hopefully we can get this roof fixed pronto xx

Anonymous User

donated

£7

Harshi Dharmaratne

donated

£20

Mina Varsani

donated

£20 + £5 Gift Aid

Cathy McBrien

donated

£5

Grace Mackenzie

donated

£5

Anonymous User

donated

£60 + £15 Gift Aid

Love what Amma are doing. Young women should not have to make these choices. Best wishes

Suzanna James

donated

£15 + £3.75 Gift Aid

warren george

donated

£15

Tim Pare

donated

£15

Just appalling that people have to live in these conditions... well done AMMA